Reduced price
Save €130.00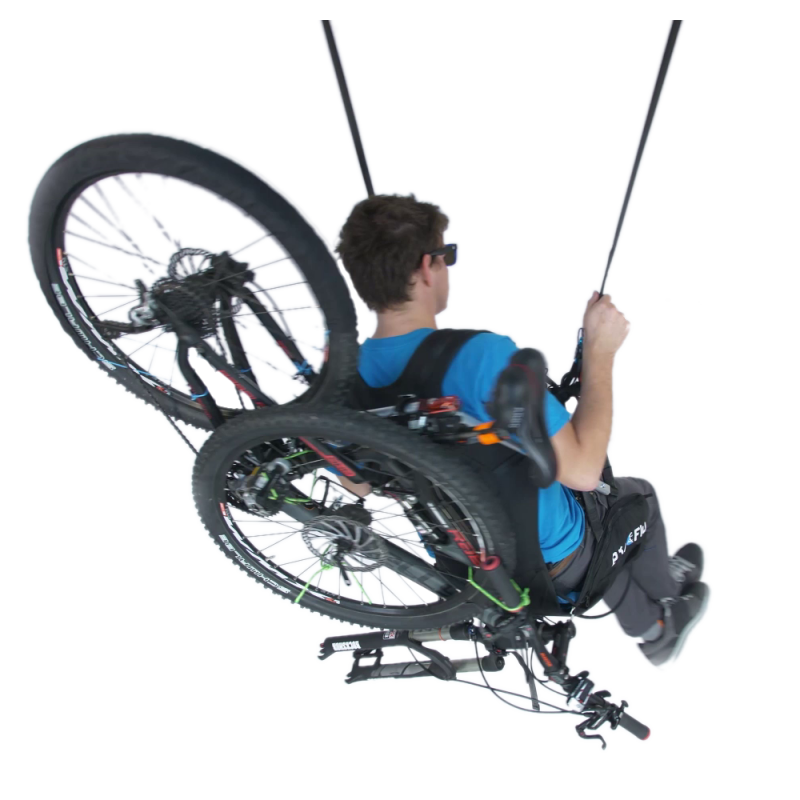 Bike&Fly Harness
World's unique product! The first certified paragliding harness for carrying bicycle or another load.
World's first harness designed to carry a bicycle!
Have you ever had to wait hours for another ride to the take-off place because the van was already full?
Have you ever landed in the middle of nowhere, but there was nobody to take you?
Do you want to do some workout before flying, but mountains don't rise just behind your house?
With Bike&Fly harness comes a new era of paragliding without limits. Reward yourself with freedom of movement and let your bike experience effortless ascending. There is no need to choose, join your favorite activities instead. Get to the take-off place fast and easily by bicycle or electric scooter . Don't spend your time at the end of nowhere after unplanned landing. Bike and live another adventure. Be flexible!
Physical parameters:
Weight 4 kg (3.2 kg without aluminum frame)
Suspension points height 48 and 52 cm
Features:
EN/LTF certification by well known authority Air Turquoise SA
Suitable for any kind of load up to 25kg, such as bikes, e-bikes, e-scooters or e-wheel.
Weight-free feeling for pilots during flight.
Works as a rucksack too
Without the aluminum frame, it changes into standard, hike&fly or speed glide harness
Two positions for carabines are available, standard and sensitive.
The back protector (EN 1621-2:2014, Level 2) can be improved by attachable airbag protector
One size for all - load tests are confirmed at 120 kg.
Designed by SkyBean and made by expert for harness production Sky Paragliders
Designed to use with front reserve container.
Bike&Fly harness BNF1 can act as standard paragliding harness without its metal frame, but this is not actually the point. Let's talk about its unique feature, about capability to carry bicycle or another load up to 25 kg. Please check user manual for detailed description. Bike&Fly harness provides unique advantages, but it also takes something. There are metal frame and load attached to harness, so in case of accident, this additional stuff don't help you in this situation. Therefore this is not gear for beginners, there are some necessary skills needed. Pilot has to be able evaluate conditions, able to take off reverse or front, or land on legs. On the other hand, there is no reason to be scared if pilot knows what she/he is doing, PPG pilots have 20 kg of metal on back, 10 liters of gasoline under their ass and moving blade right behind the head :)
The most important for high enjoyment is:
Properly set harness - use static stand to adjust harness with attached load.
Practice to attach load prior the first flight.
Use rear wheel protector to avoid line to get stuck in mountain bike tire profile.
Don't jump info air while take off, this is anyway valid commonly.
When landing, get up in harness, don't land while sitting.
If you have any question about this amazing gear, please contact us at info@skybean.eu
SkyBean Bike&Fly harness in Kössen 2018