strato
The most advanced SkyBean vario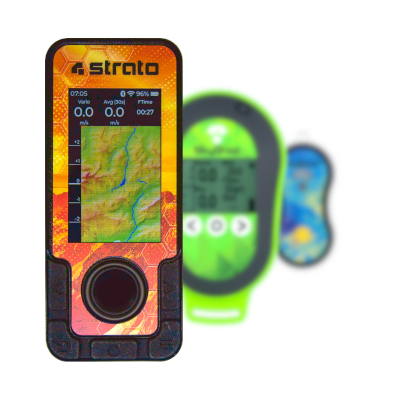 Evolution
So many new cool features and ideas, which we are no longer able to fit into our little cute SkyDrop, have challenged us to go for something new and advanced. We put the brains and skills together and voilá - here it is, high-end fly computer Strato.
Physical
For the size of an average middle class vario equipped with high-end functions! Strato has a sunlight readable 3" transflective color display. It weighs just 180 grams with a solid battery life of 20 hours. Strato fits your cockpit in a vertical position, so it leaves a lot of space for radio, phone or other gadgets.
Safety

Do you remember that strange feeling when you accidentally got sucked into cloud on your favourite XC highway during the "hammertag"? FLARM transmitter will notify glider pilots, keeping you from being smashed like a bug on the windshield, while the FANET transceiver will keep you aware about other paragliding pilots in proximity. Strato will also warn you about possible airspace violation and collision with power or lift lines.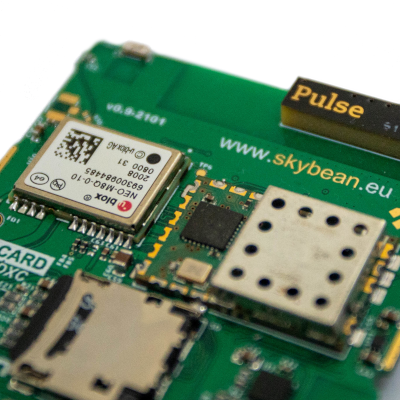 Sensors
Strato is equipped with the high quality sensors from market leading Swiss manufacturers. High performance GNSS receiver from u-blox supporting GPS, GLONASS, Galileo and BeiDou. Best in class barometer from MEAS Switzerland, with motion sensors provide instant vario response.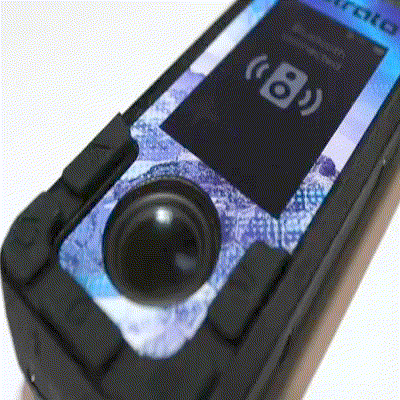 Sound
Annoyed by that typical tamagotchi beeping? Soft and precise vario tones from high quality speaker will help you effectively to climb to the cloudbase. Then enjoy your favourite music played from phone through bluetooth, during the glide. If you find unprotected speaker weak solution, watch this video ;)   
https://www.youtube.com/watch?v=5T20MyZYOG0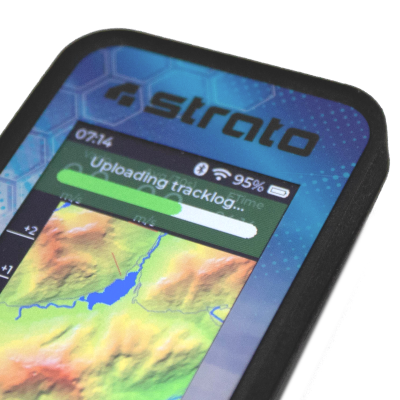 Connectivity
Connect to your favorite XC app via Bluetooth, Wi-Fi or directly with USB cable. Strato is connected via Wi-Fi to your phone or home network for automatic tracklogs upload. Maps, terrain and airspace data are always up-to-date without need for a computer.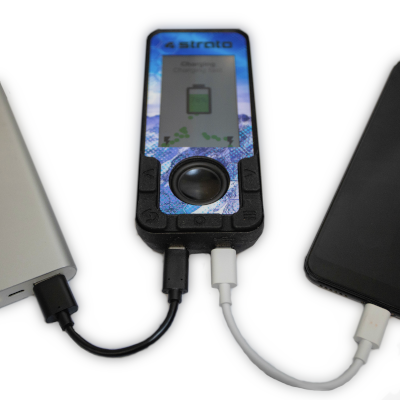 Energy Management
Strato has two USB-C ports, so in the air, energy can flow from the power bank through Strato to the phone with simultaneous data tethering. Quick Charge technology is able to provide huge amounts of energy for faster charging, an hour while driving to takeoff is enough.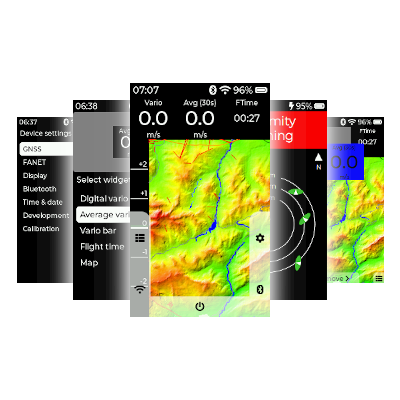 User Interface
Strato customizability will surpass his smaller brother SkyDrop. You will be able to use profiles for XC, competition, PPG or local soaring and change almost anything to your personal preferences. Choose from a large amount of widgets and place it across multiple pages.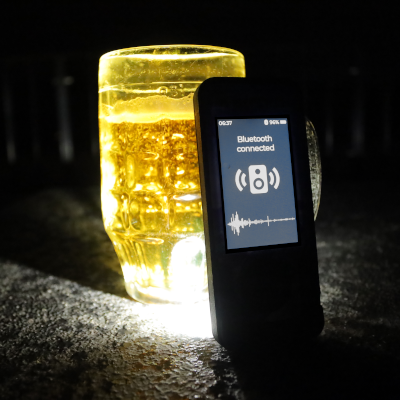 After Flight Hangout
Use strato as a music player or bluetooth speaker. Integrated torch light will help you find your way back to your tent. As a bonus Strato can also work as a powerbank for your smartphone.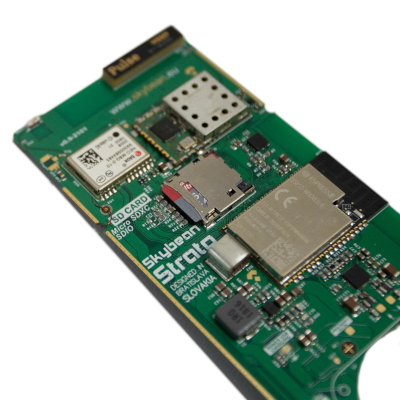 Hackability
As all our devices, Strato is also an open-source product, built on the popular platform STM32 as the main processor and ESP32 as the multimedia co-processor. If you are interested to participate, code and schematics hosted on
github
.
Timeline
There are two options for early adopters. If you choose to have the device as soon as possible, you will get the case made by high quality MJF 3D printing. If you want to wait a little longer you will get a standard plastic (injection molded) case. There will be an option for early adopters to change the casing from 3D printed to injected molded one for the price of the shipping.

UPDATE: We now run 3D printed units assembly and shipping. Despite we still haven't received molded cases, it seems we will get then sooner than we can process all 3D printed units. We will therefore automatically upgrade 3D printed orders to molded ones when they will appear.
What functions will be onboard?
We decided to use the same strategy of the successful story of SkyDrop vario. We offer high end vario, but with limited functionality at the beginning.
The early SkyDrop adopters might remember our promises 6 years ago, that better and better functions will come - and they came! During the years, SkyDrop became the most powerful vario in its class. Programming software is very time consuming and you can do it just after some hardware already exists.
Therefore we decided to place on market vario, which is just like new baby, fresh, cute, but not very skilled. Strato was born with its predecessor genome - It has all functions like SkyDrop vario, but it has many times more space and capabilities for new advanced features. Pilots who believe in our skills and buy early pieces of Strato for a low starting price can look forward to see how our vario will quickly grow up its value. We will raise its price according to upcoming functions. Of course, all updates are for free, as always here at SkyBean :)
Physical parameters:
weight 180 g
dimensions 138 x 58 x 24 mm
battery 5000 mAh,  20 h fly time
memory 32 Gb
Hardware spec:
Measurement Specialties - MS5803 barometer
u-blox - NEO-M8Q GNSS receiver
SKYTRAXX - FLARM/FANET+ Modul
ST - LSM9DS1 IMU
Espressif - ES1ESP32 WiFi/Bluetooth module and audio coprocessor
ST - STM32H7A MCU
ask for more if you are interested :)
Check the newest user guide for more details.
Broken LCD
In case you have broken LCD due to mechanical damage, we can repair it for 100€. The display is permanently attached to the front cover along with other components, therefore it has to be exchanged as a whole assembly. Please write us to info@skybean.eu before you will send the vario for repair. We won't accept any requests without previous consultation. 
Some questions and answers about Strato pre-order campaign:
We will update this section according received comments and questions.
Purchase
Q - Why Strato cannot be delivered to another than billing address if ordered as company?
A - We offer VAT free purchase, so we have to verify some company details. VAT number and billing address are the only data that we can get from international databases.
Q - Why I cannot pay through PayPal or credit card when ordering as company?
A - We didn't implement automatic VAT verification in our eshop, so we have to manually verify billing data. If you proceed payment through PayPal or credit card, invoice is generated automatically with VAT.
Q - How long are you going to offer the pre-order price?
A - We planned to run pre-order until we will manufacture the first batch, but now it seems that we will sell out those varios much sooner than this batch will be here. Of course - We already process another batch production and component ordering, but the semiconductor component market is so bad now, particularly lead times increased a lot. We will do our best to bring more pieces ASAP, but we cannot guarantee anything at this time, as we don't control our suppliers capabilities.
LCD
Q - Why has Strato small LCD?
A - Strato has 3" color transflective LCD (65 x 40 mm of active area). Transflective LCD reflect environment light back, so it needs much less energy to be visible in shiny space than transmissive LCD, what uses brute force method - more light coming from sun beets by more light (= energy) from battery. Therefore Strato LCD drains battery much less than classic transmissive LCD, so battery don't have to be brick size and weight. Transflective screens are not very common and has limited maximum size. Laptops also don't have 24" screens, but if you can connect one if you need to extend working area. The same with Strato - If you need to have larger screen, there are many cheap phones/tablets, what can serve as display extension. Strato can manage extended energy demands for these devices from external power bank as pass through device - read more in power management part.
Q - Is it possible to use Strato in horizontal (landscape) not vertical position?
A - Landscape (horizontal) mode wouldn't be a problem, but we don't recommend that, because a FANET/FLARM antenna has specific radiation patterns, tuned to go more to sides than to up&down directions when Strato is in vertical position or lay on the cockpit.
FLARM/FANET
Q - Are other FLARM aircrafts visible on Strato?
A - No, they are not. FLARM interface is transmitter only - it is called beacon, so you are visible for solid gliders and other ultralight aircrafts. This use case is negotiated by out FLARM/FANET modules provider (Skytraxx) and we believe that in paragliding application is most important to be seen, because you cannot do much if 200kph flying glider don't see you on its way. We would say it is similar like bicycle on the road. Of coarse, FANET network works in bidirectional data flow, so you can see other FANET devices around you.
Q - What is the range of FLARM on Strato?
A - Standard answer like "up to 100km" would be theoretical correct, but useless in practice. We placed a goal 5 km as satisfactory. It came from theory - How far ahead you need to know about gas station while driving 200 kph on highway (in unlimited speed region in Germany of coarse :)  We found it similar to fast moving aircraft around you. Therefore we tested Strato's FANET range in the worst possible conditions - flying PPG, inside cloud, freezing temperature, one device grounded - and range was around 12 kilometers. Another nice weather day, range was more than 40 km, but we assume nobody cares about nice conditions use case.
Connectivity to other equipment during flight
Q - Is possible to connect an eReader via USB and an IPhone via Bluetooth (Flyskyhy) to share telemetry data to both devices simultaneously?
A - Yes, it is possible, we are aiming for this functionality. The USB data is OTG and it will act as virtual serial port for eReader. Then the Bluetooth connection can be used for Flyskyhy.
Battery
Q - Is battery in Strato exchangeable?
A - Strato is equipped with Li-Poly rechargeable battery (single cell 5000 mAh), which is installed permanently inside casing, attached with adhesive tape to back cover and connected to main electronic board with connector. Therefore is it not impossible to change it, just little skills are needed. We would compare this procedure to mobile phone battery replacement. Easy for somebody, but difficult for another person.
Speaker
Q - The speaker is completely unprotected! Do you plan on placing some sort of grill/protection over it or is it really going to stay that way? Large uncovered speaker seems to be weak element of Strato. It looks like big button, just press it. Is there any speaker protection?
A - Speaker is one of dominant components, so we left it unprotected. We tested many types of speakers and we found this one to be very durable. It can play nice range of sound, even very good lows. Its mechanical construction is not flat. Overall 16mm height works not only as high quality audio transducer, but it also brings advantage of "deep" design, where active membrane is drowned 5mm below case surface. This speaker is also IP67 waterproof! Please watch this video if you have any doubts about speaker durability https://www.youtube.com/watch?v=5T20MyZYOG0
Main board - electronics
Q - Will there be a PCB revision in between the early adopters and the later ones?
A - There will be minor optimization changes (e.g. removal of unused backup components) , but all devices will be back compatible the same way like SkyDrop varios, where the latest firmware can be installed into very first pieces including all features.
Enclosure
Q - What is better? Plastic or the 3d-Print-Option?
A - It depends where your priority is. The 3D printed case (made of nylon) is fully functional in terms of mechanical properties, but it has slightly more mat surface than molded one. 3D printed enclosures will be available about a month sooner then molded ones, as we know well that in May the season is 100% running. After the season, you can take our offer to free case change (just for both way shipping costs).
Functions (this part will be separated later to sub-themes)
Q - What kind of widgets and pages will be available? What kind of different screen setups?
A - The first layer of setup is preset profile, where you will choose whole set of stored settings. Profiles can be named e.g. XC, Comp, PPG, Basic, Advanced etc. The second layer are pages/screens, what can also have custom names, e.g. thermalling, gliding, FAI triangle or acro. The last layer are particular widgets, what can be specific size and position.
Q - Can you please tell me if Strato will support competition task?
A - Of coarse, like any other high class devices, Strato is designed for competition flying. There will be all standard functions and widgets.
Q - Can you tell me something about how responsive it will be compared to current varios, e.g. XCtracer?
A - Strato is equipped with the best possible sensor set and their software fusion results into instant vario response function. Of coarse, Strato is not worse than its little brother SkyDrop, which has this function also implemented. We wouldn't judge comparison with XCtracer, as we are in conflict of interests and also Koni is our friend :), but you can maybe find some independent videos on youtube.
Q - What kind of features in airspace update and airspace warning?
A - There is detailed map on color screen of Strato, so airspaces can be presented there in very practical way. We haven't finished this function yet, but you can imagine it in similar way like on XCtrack app. There are planned also obstacle warning, particularly wires (not only for PPG pilots).
Q - Would the Strato be able to connect via Bluetooth to Flyskyhy app on iOS like the Skydrop?
A - Of coarse, there won't be any downgrade from SkyDrop functions. Strato's bluetooth interface allows much more - bidirectional sound transfer or camera remote functions.
Q - Is the screen "flippable"? 
A - There is whole set of motion sensors onboard, so there is no problem with basic functions like this.
Q - How the airspaces will be updated?
A - We know well that manually find and copy something from web is annoying, so airspaces will be updated automatically when connected to data, e.g. home WiFi or phone's hotspot.
Q - How about maps? Those nice colorful form pictures is form some app or it is native map from Strato? Is Strato autonomous or is just present some kind of app running on phone?
A - Despite Strato can cooperate with plenty of other devices, it is full standalone device including all its features (except of mobile data access). Presented map pictures are generated by Strato itself. Honestly, we are inspired by XContest web interface presentation of maps (not XCtrack) as we found it the best from all known sources. We try to get close to this nice contrast presentation. Maybe even more - we use dynamic color range - where currently presented altitude difference is placed across possible color range, so e.g. flatlands will look more undulated to help you find a thermal blow off edge.
Q - Is it possible to transfer the screen to another device (tablet or e-book reader)?
A - We plan to do screen mirroring, most probably web based, where Strato will act as a web server, so there won't be any additional app and the whole operation will be independent of the remote device operating system.
Mount
Q - Will be any mount (strap for the leg or mount for the riser) included? Would it be possible to mount to tandem risers? Does it have safety cord?
A - Of coarse, there is safety strap attachment point, little (5mm) passthrough cave, like mobile phones have 5-8 years ago, just larger one. Back of Strato is flat, there is surface for cockpit Velcro mount. We plan to design some kind of riser mount, as we believe it is much better than leg mount. This topic is not closed for now, we will deal with it in few upcoming weeks.
Rated
4.14
on the scale
1
-
5
based on
7
customer reviews